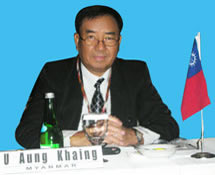 Our primary mission is to fulfil the needs for the improvement and modification of Distribution System in Myanmar. In Compliance with this mission, we imported high quality, reliable and proven products from abroad and successfully supplied to government utilities and private industries with narrow profit margin. Later we entered into other related business area such as Electrical Project Implementation. Franchised utility and production of Concrete Electric Poles.
Myanmar, under the newly elected Democratic Government, with broad international economic cooperation will be developed rapidly in the near future. Along with developing economy the electricity demand will also be increased and wide scope of Electrical facilities surely needed to be expanded.
Taking this opportunity, on behalf of Pacific Electric Co.,Ltd, we decided to strive to participate in upcoming Electricity Development plan with all our efforts, Experiences and Expertise.
Pacific Electric Co.,Ltd. was established in May 2010. The company's primary goal was to introduce quality electrical equipment to Myanma Electric Power Sector through the business area of Trade. Beforehand, because of the financial constrains of state-owned utilities, most of the equipment used in the electric power system were low quality and cheap products.
The company tried to import quality equipment with fair price from Thailand, Vietnam, Singapore, Malaysia and distributed to state-owned utilities and private sector consumer in order to restore proper standard and safety.
In Addition to that in 2012, Company has recruited experienced Engineers and Expertise, then start launching of EPC contract implementation to open up 2nd phase of company business. Since then company won the contracts from both Government Department, private and commercial business and Industries.
Later company entered into Franchised Distribution business in 2014. Company franchised two townships in Yangon Division and two townships in Mandalay Division and ran the utility business on behalf of Ministry of Electric Power. Our mission is to improve distribution system in those townships. The company has successfully ran this business to date.
Finally the company decided to expand its scope of business to production of Electrical Equipment and related Accessories. The company set up concrete pole factory in Myothar. Mandalay Division in 2016 and planned to expand for Electrical Equipment production in the near future.
---
Board of Directors(BOD)
U Aung Khaing
President
B.E(EP) Dip E.P.D.S (Norway)
Retd. CHairman, Yangon City Electricity Supply Board.

Daw Aye Aye Mu
Chief Executive Officer
B.Arch
U Tun Tun Aung
Director
M.B.B.S(Mdy)
MBA (UTCC) University of Thai Chamber of Commerce

U Win Naing Tun
Director
B.Arch

U Than Win
Director
B.E (Civil)

U Phyo Zaw Oo
Director
B.E (Mechanical)
 
Executive Team
U Maung Maung Soe
Managing Director
B.A(Hist), DBL, DML, MPA
U Soe Aung
Director (Administration)
B.Sc(Eng) Electrical
U Thein Htay
Director (Engineer)
B.E (Electrical Power)